What is Peppermint?
Peppermint cultivation: Peppermint (Mentha Piperita L.) belongs to the Lamiaceae family, which is one of the most commonly consumed plants in the medicinal herb market due to its magical properties.
Botanical features
Peppermint is a perennial and herbal plant, reaching a height of 30 to 90 cm. The plant is glabrous, sometimes hairy to whitish gray. The leaves are 40 to 90 mm long and 15 to 40 mm wide and maybe ovate-lanceolate or lanceolate, rarely ovate, cuneate to cordate. The petiole is long and usually serrated. The inflorescence usually consists of numerous dense cylinders with small leaflets. The petioles are usually glabrous. The flowers are purple and white located inside the false panicles.
Medicinal part
Aerial organs

Geographical distribution
Global distribution
Peppermint is cultivated in Iran, Europe, and the Americas.
Distribution in Iran
This plant is grown in Khuzestan, Fars, Bushehr, Esfahan, and Tehran, and so on.
Cultivation Ecology
This plant can be grown in most places, but it is not suitable for cold areas.
Peppermint can begin germination at 2-3 oC, while the best temperature for its growth is 10 o
At the early stages of growth, this plant cannot tolerate cold stress as the low temperature can dry out it. However, at this growth stage, peppermint can be resistant to cold stress until -8oC for a short time.
At 18-20 oC, the extract content of this plant and its optimal growth can be increased.
Due to its surface roots, peppermint cannot absorb water from deep in the soil. Therefore, adequate irrigation is required during the growing season.
Peppermint requires irrigation of 700-800 mm/ ha and should therefore be grown in areas without water shortage problems.
The higher the moisture content of the soil (80%), the more extract can be produced in the plant, because there is a positive correlation between the extract content in the areal part of the plant and the soil moisture.
Loamy sandy soil with high humus content is the best soil for the growth of this plant.
Peppermint can produce the best yield in acidic and drained soils.
The best pH for growing peppermint is between 5-8. Also, this plant should not be grown in clay soils that are saturated with water and have a pH above 8.5.
Required fertilizers
Chemical fertilizers
Oxide phosphors (50 – 90 kg/ ha)
Potassium oxide (60-80 kg/ha)
Nitrogen (60-90 kg/ha)
2- Animal manures
– If 20-30 tons of rotten animal manure is added to the soil before planting in the fall, this method of cultivation can accelerate the growth of peppermint.

Cultivation method
Peppermint cultivation with rhizomes or offshoots. The offshoots are usually transferred to the main field in early October or late May-early June.
As this plant requires a lot of water, the field should be divided into suitable plots so that it can be irrigated more efficiently. Also, the rhizomes must be cut into 15-20 cm pieces and then planted in furrows as a row with a depth of 5-10 cm (10 cm in light soils, 8 cm in medium soils, and 5 to 6 cm in heavy soils).
Rhizomes should be put together at a distance of 20 cm.
The plants should be irrigated immediately after cultivation.
Irrigation Stages
After growth, when seedlings' height is between 8-10 cm.
After germination
After the first harvest
After regrowth of plant
Harvesting
Depending on the climate of the plant, peppermint can be harvested 3-4 times a year. After flowering, the plant can be harvested 4-5 cm above the ground, then the areal part should be dried in a shady place.
Medicinal-therapeutic properties of peppermint
Pain killer
Expectorant
Period irrigator
Anti-flatulence
Pain killer
Anti-cough
Antispasmodic
Antimicrobial
Anti-inflammatory
Antiparasitic
Anti-nausea
Anti-Herpes Virus
Antioxidant
Asthma treatment
Treatment of bronchitis
Treatment of sinusitis
Migraine treatment
Treatment for diarrhea
Treatment of stomach pain
Treatment of indigestion
Treatment of menstrual cramps
Treatment of nerve pain
Treatment of intestinal parasites
Removes toxins from the body
vasodilators
Elimination of lung infections
Treatment of gastrointestinal poisoning
Treatment of liver diseases
Sex enhancer
Helps with muscle cramps
Treatment of painful bladder syndrome
Note: Please consult your doctor before using this herb to treat the disease.
Consumption instruction
Consumption method
1- Herbal tea
Pour a portion of the plant leaves into 0.5 L of boiling water and drink it after brewing.
2- Drops
3 to 8 drops of the plant oil with other liquids are drunk 3 times a day or applied externally.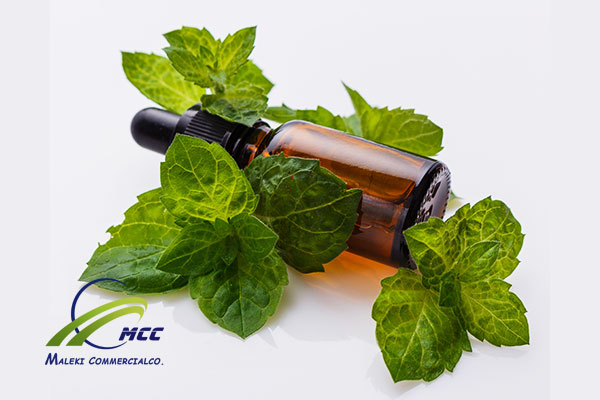 Peppermint Products
Essential Oils (extracts)
Oils
Drops
Globule and subcutaneous injection solutions
Contraindications
Pregnant women
Children under six years of age
People who are suffering from obstructive liver and biliary disorders
Local application on wounds and open skin areas
Precautions
Patients with high blood pressure.
Patients with cardiovascular disease.
People susceptible to allergies.
Side effects
Heartburn
Anal burning pain
Tenderness and muscle spasm
Cultivation and harvesting advice
Maleki Commercial has groups of professionals and trained experts who can assist farmers and investors in exporting medicinal plants at all stages of production from cultivation to harvesting and sale.
If you want to grow medicinal plants, invest in starting a medicinal plant processing factory, package and extract medicinal plants, you can contact our expert consultants
Our team of medicinal plant specialists and business plan consultants is one of the best in the field.
Supplier of peppermint leaves in Iran
According to buyer's requirements, Maleki Commercial exports the best quality of peppermint leaves and branches in the form of EXW, FCA, CPT, CIP, DAT, DAP, FOB, FAC, CFR, CIF.
Maleki Commercial, the largest exporter of peppermint
Maleki Commercial is the largest direct exporter of peppermint in Iran and Asia. This company exports the best quality of this plant according to the buyer's requirement in the form of EXW, FCA, CPT, CIP, DAT, DAP, FOB, FAC, CFR, CIF.
Global export of Dyer's woad
Maleki commercial is one of the leading global exporters of peppermint that have the most effective ingredients and best quality and price among other companies that export this plant. This holding has been very successful in exporting this plant to different countries without middlemen.
You can rely on this company to provide the best quality products in safe and standardized packaging when you need this kind of high-quality export.
Peppermint price in Iran
Maleki Commercial exports the leaves and aerial parts of peppermint at the best price and quality under the brand Elisso Sky to the United States, Europe, and Asia and has already won several customers.