What is Black cumin seed (Bunium Persicum)?
Black cumin seed with the scientific nameof Bunium Persicum ( Boiss ) B. Fedtsch is a rare and aromatic medicinal plant with excellent remedial properties. Due to the low supply, this herb is one of the most expensive plants on the world market.
Physical characteristics
Black cumin seed (Bunium Persicum) is a plant with an irregular spherical tuber. The boot is 40 to 60 cm high, straight, grooved, with crown branches in the middle. The leaves are a base with long petioles, with a wide triangular circumference and ternary. The initial parts are long with petioles and the terminal parts are spear tip, beak, and wedge. Stem leaves with short sheaths are double combed; the terminal parts are erect, filiform and up to 20 mm long, and upper leaves are reduced to low and filiform parts.
umbels
The umbels are 10 to 15 cm in diameter, the radii are thin and 10 to 20, often are wide in the flowering stage with 10 -30 mm long. But in the fruiting stage, they reach a length of 25 to 50 mm. The pedicels are thin, uneven, and 2 to 3 mm long in the flowering stage and 5 to 12 mm long in the fruiting stage. The flowers are all fertile, the petals are 6 to 10, and the lanceolate-wedge-shaped, long-pointed.
Petals
Petals are 1 mm long and linear, often much shorter than the thin pedicle fruit. The ripen mericarps, separated from each other and from the style pedicle, have five corners in cross section. They also have conspicuous filiform fins and there are caoutchouc conduction channels between each fin. The seeds are slightly hollow in the abdomen. The style pedicle is shallowly curved and the styles are thin and curved and the same width as the style pedicel. The fruit is elliptical, hazel, and light brown, the length of the fruit has almost 5 narrow lines.

Chemical compounds
This plant contains essential oils, limonene, dihydrocarone, carwell, dihydrocarol, limonene, tannin, mucilage, sugar, and limonene.
Pharmaceutical organs
Seed
Geographical spread
Global distribution
Black cumin seed ( Bunium Persicum) grows in Iran, Afghanistan, Pakistan, and Central Asia.
Dispersion in Iran
This plant grows in Kerman, Fars, Yazd, Hormozgan, Khorasan, Semnan, and Tehran provinces.
Ecology of cultivation
This plant grows in high and humid areas.
The seeds germinate at 7 to 9° C.
The germination vigor of the seeds is 2 to 3 years.
Optimal temperatures for growth are between 16 and 20 °C.
In the first year of growth, this plant does not need much light, but lack of light reduces its yield.
This plant needs a lot of water to grow. If it does not receive enough water, it will not bear fruit.
Acidic soils and soft sandy soils are not able to retain water and are therefore not suitable for growing this plant.
Clay-sand soils lead to the best growth for this plant.
This plant grows best in soils with pH between 4.8 and 7.8.
Under ideal climatic conditions, seed germination takes 18 to 25 days.
The plant grows slowly at first, and after 11 to 14 days of growth and seed emergence, the main leaves appear.
In autumn, the leaves are at their largest size. The number of leaves is 7 to 18.
Biennial plants bloom in May of their second year, and their flowering period lasts 25 to 30 days.
Biennial plants form fruits 40 to 50 days after flowering.
Biennial plants mature between 440 and 460 days from the beginning of cultivation to the ripening and completion of fruit.
Annual plants begin to sprout in late May, and flowers appear in late June.
The flowering period of an annual plant lasts 20 to 25 days, and the fruits ripen in early August.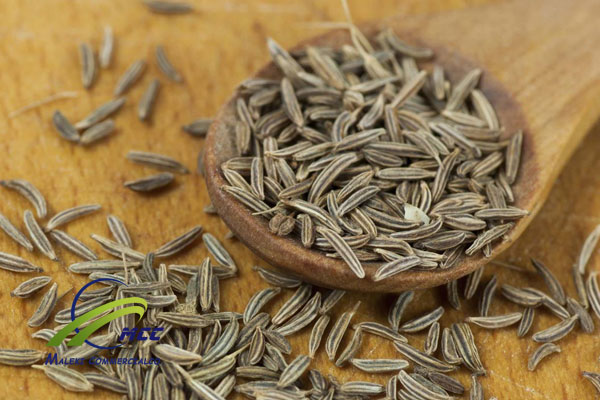 Cultivation in rotation
Biennial plants have only crown leaves in the first year and bear fruit in the second year. Therefore, it is best to cultivate annuals in a mixture to get the most out of the land.
Biennial black cumin seeds can be planted along with dill and annual black cumin seed.
Because of their short growing season, dill and annual black cumin seed cannot inhibit sunlight from reaching biennial cumin. Therefore, they can be grown together with biennial cumin.
In crop rotation, it is important to choose plants that increase the mineral content of the soil and inhibit weed growth.
Materials and nutrients needed for cultivation
In the first year of growth, this plant cannot absorb substances and elements from animal manures.
In the second and third years of growth, it can absorb nutrients and elements from animal and chemical fertilizers.
Black cumin seeds require 32 kg of phosphorus oxide, 80 kg of potash oxide, and 72 kg of nitrogen per ton.
To prepare the soil in the fall, 50-70 kg of phosphorus and 50-80 kg of potash should be added per hectare.
It is recommended to add 50 to 60 kg of nitrogen to the soil before sowing in spring.
Plant growth is increased by 30 to 40 kg/ha of potassium in the first year of growth.
Sowing dates and intervals
Black cumin seeds can be planted in early spring (end of March).
The planting depth should be 2 cm.
Too late sowing reduces crop yields.
Cultivation method
This crop is planted through seeds and rhizomes.
Harvesting
Fruits ripen from the middle or end of summer (mid-June to mid-August), depending on climatic conditions.
The fruits of black cumin can be harvested when they turn brown.
The essential oil of black cumin fruit is three times that of green cumin.
The yield is 1 to 1.5 tons per hectare.
Common mistakes in Black cumin seed ( Bunium Persicum)
There are two kinds of cumin: Black cumin seed ( Bunium Persicum) and European black cumin (Carum Carvi L.), which in some references, is confused with both. However, this plant differs from European black cumin both in terms of medicinal properties and its location of cultivation.
Consumptions
Pharmaceutical industry
Food industry
Confectionery industry
Cosmetics and Hygiene industry
Medicinal properties
Relieves stomach ache
Treats indigestion
Anticonvulsant
Anticancer
Antispasmodic
Eliminates flatulence
Weight loss
Treatment of constipation
Treatment of asthma and bronchitis
Treatment of sore throat
Treatment of lactation deficiency
Treatment of menstrual disorders
Treatment of neurasthenia
Treatment of painful menstruation
Treatment of respiratory diseases
Prevention of hair loss
Elimination of neurological diseases
Lowering cholesterol level
Red blood cell health
Adjustment and improvement of sleep
Blood pressure regulation
Maintenance of liver health
Improves bone health
Note: To treat disease with this plant, please consult your doctor.
Cultivation and harvesting advice

Maleki Commercial has groups of professionals and trained experts who can assist farmers and investors in exporting medicinal plants at all stages of production from cultivation to sale.
If you want to grow medicinal plants, invest in starting a medicinal plant processing factory, package and extract medicinal plants, you can contact our expert consultants Our team of specialists in medicinal plants and business plan consultants is one of the best in the field.
Black cumin seed (Bunium Persicum) supplier in Iran
According to the buyer's needs, Maleki Commercial exports excellent quality of Black cumin seed (Bunium Persicum) as, EXW, FCA, CPT, CIP, DAT, DAP, FOB, FAC, CFR, CIF.
Maleki Commercial, the biggest exporter of Black cumin seed (Bunium Persicum). Maleki Commercial is the largest direct exporter of Black cumin seed (Bunium Persicum) in Iran and Asia. This company exports the best quality of this plant as per the buyer's requirement in the form of EXW, FCA, CPT, CIP, DAT, DAP, FOB, FAC, CFR, CIF.
Worldwide export of Black cumin seed (Bunium Persicum)
Maleki Commercial is one of the global exporters of Black cumin seed (Bunium Persicum)with the most effective ingredients, offering the best quality and price among all exporters. This company is very successful in exporting this plant to different countries without any middleman.
You can rely on this company to provide the best quality products in safe and standardized
packaging if you need this kind of high-quality export.
Black cumin seed (Bunium Persicum) price in Iran
Maleki Commercial exports Black cumin seed (Bunium Persicum) at the best price and quality under the brand Elisso Sky to the United States, Europe, and Asia and has already attracted several customers.