What is the Egyptian willow?
cultivation Egyptian willow : The Egyptian willow (Salix Aegyptiaca L) belongs to the Brassicaceae family. It is an export plant whose products (essential oil, extract, oil) are exported all over the world.
Egyptian Willow names
Scientific name: Salix Aegyptiaca
English names: Egyptian Willow, Pussy Willow, Musk Willow, Persian Willow.
Arabic name:
Persian name: Bidmeshk, Bimeshk, Bidkerial gol, Gorbebid, Shahbid
Physical characteristics
Egyptian willow is a shrub or tree 8 to 10 m tall. It has thin branches 1.8 to 2.7 mm thick. The leaves are relatively large with 50 to 120 mm long and 25 to 55 mm wide. There are hairs in the central part of the lower surface, which are almost curved. Relatively rare hairs are almost condensed at the edges. The leaves are different in males and females so that the leaves of female trees are usually oval and wider than those of male trees.  The leaves are 2 to 3.5 mm long. The hairs at the ends of the leaves are 1.5 to 3 mm high. The inflorescence is cat-shaped, premature, thick, and long-haired.
Pharmaceutical Part
Flower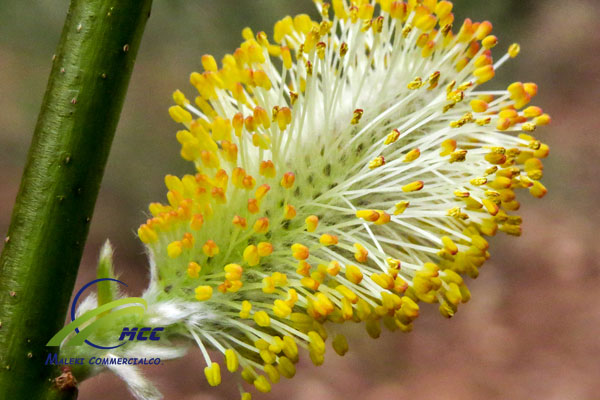 Chemical compounds
This plant contains fenchone, terpineol, gamma-terpineol, trans-liminal, beta-terpineol, gamma, O-4-dimethyl-oxybenzene.
It also contains other compounds such as sodium, magnesium, potassium, selenium, zinc, iron, folic acid, citric acid, omega-3 fatty acids, antioxidants, carbohydrates, and protein.
Geographical distribution
Global distribution
This plant grows in Iran, Pakistan, Afghanistan, Iraq, southeastern Turkey, and the southeastern Caucasus.
Distribution in Iran
It is cultivated in Mazandaran, Gilan, Gorgan, Fars, Isfahan, Kerman, Yazd, Ardabil, South Alborz, Tehran, and Azerbaijan provinces.
Ecology of cultivation
Egyptian Willow prefers moist, fertile clay soils in humid and temperate climates.
Since it does not tolerate drought and humidity, it grows best in temperate areas near water sources such as rivers.
Direct sunlight produces high amounts of active ingredients, and the presence of direct light makes the plant grow faster.
The plant is resistant to extremely cold (-23oC) climates.
It does best in slightly low, neutral pH.
Depending on the climate, Egyptian Willow requires plenty of water and moist soil.
It also needs animal and plant fertilizer to GROW.
Cultivation Methods
Cultivation by seed
Cultivation by cuttings
Cultivation by seed
As soon as the plant turns yellow, the seeds should be harvested and planted.
After a few days, the seeds lose their germinating vigor, so they cannot be stored for a long time.
Once the growing area is prepared and fixed, moisten the soil evenly and place the seeds on the soil surface. If the soil is not moist enough, moisten it with a spray bottle.
Germination occurs between 18 and 21° C, and it usually takes 2 to 3 weeks for the seeds to germinate.
Cultivation by cuttings
Cuttings are the best method of cultivating this plant.
Cuttings are best planted in late fall or early spring.
In late fall, you can take 30 cm cuttings from annual woody stems or semi-woody stems in late spring.
When cuttings were taken from the stems, they are planted in moist soil protected from direct sunlight at a temperature of at least 13 °C so that they begin to form roots.
Within two weeks the cuttings begin to take root, and after a good root development, the seedlings can be transferred to the main growing site.
The distance between trees in row crops should not be less than 3 m, while in mass crops the distance between rows should be at least 4 m and the distance between trees in a row should be at least 3 m.
Pests and diseases
Black willow spot
Anthracnose of the willow
Willow rust
Outer white willow
Harvest Time
Late March and late May are the time of flowering of this plant, the flowering time of this species is 15 days.
To preserve the effective components of the essential oil and extract, the extraction process should begin immediately after harvesting.
Fresh flowers yield 2 to 3.5 liters of extract per kilo.
Maintenance
The flowers of Egyptian willow, when dry, should be stored in a cool place away from sunlight.
Medicinal-therapeutic properties of the Egyptian willow
Relaxing
Antimicrobial
Anti-inflammatory
Against flatulence
Anti-cough
Anti-asthma
Anti-humidity
Anti-heat
Appetizing
Drowsy
Treatment of depression
Refreshing
Treatment of neuralgic pains
Treatment of rheumatism
Heart booster
Nerve Strengthener
Strengthening of the digestive system
Lowering blood sugar
Improving gastrointestinal function
Note: Please consult your specialist before using this plant to treat the disease.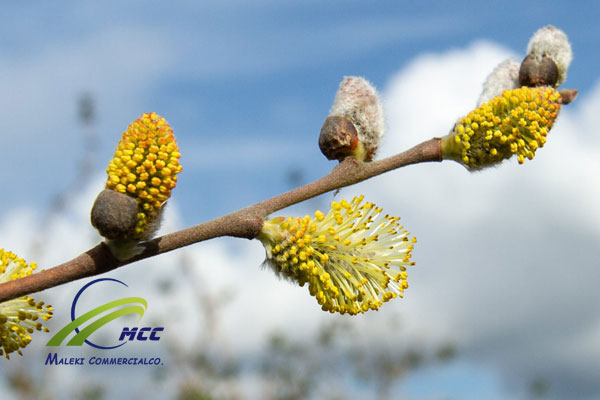 Maleki Commercial, the largest exporter of Egyptian willow
Maleki Commercial is the largest direct exporter of Egyptian willow in Iran and Asia. This company
exports the best quality of this plant as per the buyer's requirement in the form of EXW, FCA,
CPT, CIP, DAT, DAP, FOB, FAC, CFR, CIF.
Supplier of Egyptian willow in Iran
According to buyer's requirement, Maleki Commercial exports the best quality of Egyptian willow in the form of EXW, FCA, CPT, CIP, DAT, DAP, FOB, FAC, CFR, CIF.
Global export of Egyptian willow
Maleki commercial is one of the leading global exporters of  Egyptian willow that have the most
effective ingredients and best quality and price among other companies that export this plant. This holding has been very successful in exporting this plant to different countries without
intermediaries.
You can rely on this company to provide the best quality products in safe and standardized
packaging when you need this kind of high-quality export.
Egyptian willow price in Iran
Maleki Commercial exports Egyptian willow at the best price and quality under the brand Elisso Sky to the United States, Europe, and Asia and has already attracted numerous customers.