What is Common Rue Dried?
Common Rue Dried (Ruta Graveolens L) belongs to Rutaceae. The plant has many medicinal properties and is in high demand in the market of medicinal plants.
Physical characteristics
It is a perennial herbaceous plant with an almost woody base. The entire plant is glabrous. The lower leaves have nearly petioles and the upper leaves have almost no petioles. The terminal segments are 2 to 9 mm wide and have a spear tip to a narrow rectangle or obovoid margin. The inflorescence is relatively thin and the pedicle is also the same size or larger than the capsule. The petals are lanceolate.
The stem is 14 to 45 cm tall. The sepals are pointed and acuminate. The capsule is glabrous and has parts that are somewhat narrow at the tip and gentle at the apex. The inflorescence is relatively thin, the pedicles are the same size or larger than the capsule and the yellow flowers are located in a double-sided carpel.
Chemical compounds
This plant contains furanocoumarins, coumarins, flavonoids, alkaloids, and lignans.
Its essential oil contains 90% of methyl nonyl ston with a small amount of esters and phenols.
The essential oil of this plant is obtained by water distillation from dry air organs.
For every hundred kilograms of dried plant, 100 g of essential oil is obtained.
Geographical distribution
Global distribution
Common Rue Dried grows in Iran, the Mediterranean region, the Balkans, and Crimea.
Distribution in Iran
Common Rue Dried is planted in Mazandaran, Gilan, Isfahan and Urmia provinces.
Pharmaceutical part
Aerial organs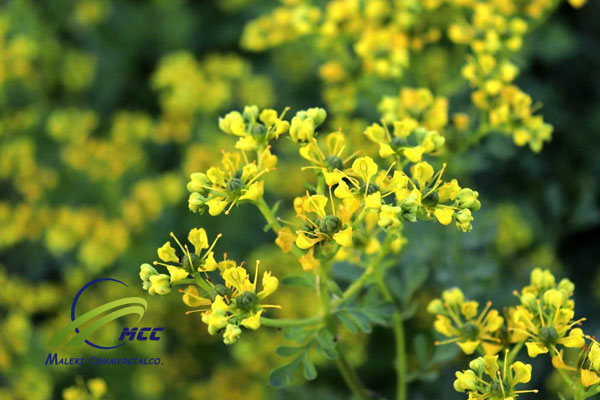 Medicinal properties
Laxative
Diuretic
Triggers menstruation
Lethargic
Relaxing
Allergic
Carminative
Against cough
Analgesic
Anti-inflammatory
Anti-parasitic
Antispasmodic
Parasite repellent
Abortive
Facilitates birth
Stomach tonic
Relaxing for the muscles
Lowers blood pressure
Decreases sexual inclination
Treatment of hysteria
Treatment of epilepsy
Treatment of jaundice
Treatment of seizures
Treatment of typhoid fever
Treatment of earache
Treatment of toothache
Treatment of scarlet fever
Treatment of warts and herpes
Treatment of rheumatic pains
Treatment of insect bites
Hemostatic remedies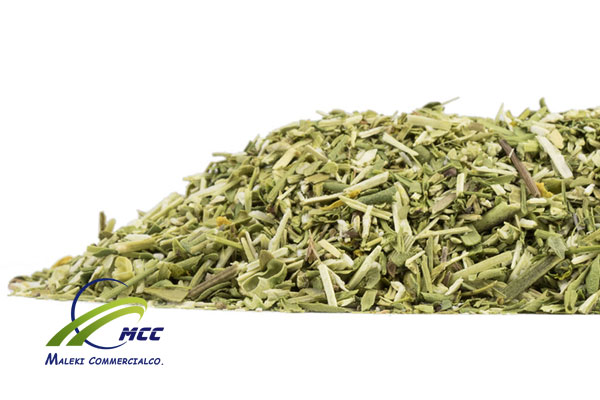 Method of use
Add one tablespoon of the dried herbs to 200 cc of boiling water and drink it after brewing.
Contraindications
Pregnant women
Lactating women
Patients with blood diseases
Precautions
Patients taking anticoagulants
Elderly people over 60 years old
Side effects
Blisters on the skin
Skin rash
Side effects of the overdose
Dizziness
Insomnia
Stomach ache
Spasm
Vomiting
Asphyxiation
Note: Please consult your clinician before using this plant to treat the disease.
Common Rue Dried supplier in Iran
According to the buyer's needs, Maleki Commercial exports excellent quality of Common Rue Dried as, EXW, FCA, CPT, CIP, DAT, DAP, FOB, FAC, CFR, CIF.
Maleki Commercial, the biggest exporter of Common Rue Dried
Maleki Commercial is the largest direct exporter of Common Rue Dried in Iran and Asia. This company exports the best quality of this plant as per the buyer's requirement in the form of EXW, FCA, CPT, CIP, DAT, DAP, FOB, FAC, CFR, CIF.
Worldwide export of Common Rue Dried
Maleki Commercial is one of the global exporters of Common Rue Dried with the most effective ingredients, offering the best quality and price among all exporters. This holding is very successful in exporting this plant to different countries without any middleman.
You can trust this company to provide the best quality products in safe and standardized
packaging if you need this kind of high-quality export.
Common Rue Dried price in Iran
Maleki Commercial exports Common Rue Dried at the best price and quality under the brand of Elisso Sky to Europe, Asia, and the United States which has already attracted plenty of customers.