What is a Cornflower?
blue cornflower (Centaurea Cyanus L.) belongs to Asteraceae, which is a medicinal plant with multiple properties that are exported to different countries.
Physical characteristics of blue cornflower
Cornflower is an annual plant whose stem reaches a height of 50 cm. The stem is often simple or sometimes branched from the base or rarely stands erect at the top, resulting in a mound.
The leaves are peach-colored hairy and almost dense, the basal leaves are distinctly petiolate and inverted-lanceolate to lanceolate-spoon shaped and often lobed, with an ovate or oval tip. The basal leaves are rarely uncut, and the middle leaves are distinctly lobed or crested, with beak-like parts. The upper leaves are also petioleless, linear-lanceolate, beaked, and taller than the nodes.
The cup collar is 10 to 22 mm long and 5 to 12 mm wide. The leaflets are multi-rowed and green to purple at the tip. The hairs of the collar leaflets are 0.5-1 mm long and brown or dark brown.
The central flowers are hermaphrodite, pinkish-purple, while the lateral flowers are dark blue, strongly radiating, with incisions 3 to 4 mm long, almost the same size. The hazelnuts are 2 to 3 mm long and the pappus is 2 to 3 mm long.

Geographical distribution
Global distribution
Cornflower grows in Iran, Pakistan, Iraq, Turkey, and temperate regions of the northern hemisphere of Europe.
Distribution in Iran
This plant grows in the provinces of Kermanshah, Khorasan, Sistan and Baluchestan, and Tehran.
Treatment-medicinal properties
Menstrual inducer
Astringent
Diuretic
Antipyretic
Against cough
Anti- jaundice
Anti-bronchitis
Treatment of constipation
Treatment of eye inflammation
Improves digestion
Strengthens the liver
Strengthens the stomach
Booster for memory
Blood purifier
Relieves nerve pain
Treatment of kidney diseases
Treatment of gastrointestinal disorders
Treatment of rheumatic pains
Treatment of skin diseases
Method of use
Brew some dried blue cornflower leaves in 200 mL of boiling water and drink it after brewing.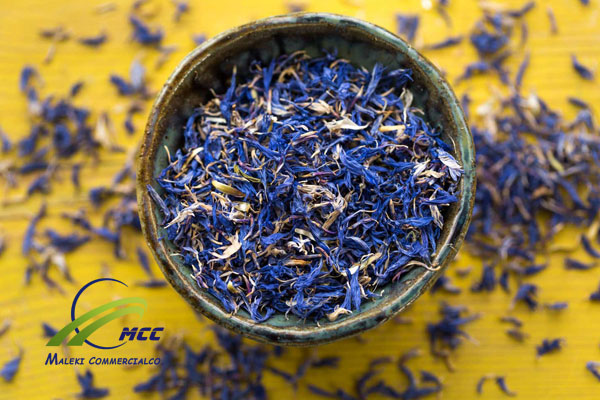 Contraindications
None
Precautions
People with allergic diseases
Children under 12 years
Note: Please consult your physician before using cornflower to treat the disease.
Blue cornflower supplier in Iran
According to the buyer's needs, Maleki Commercial exports excellent quality of blue cornflower as, EXW, FCA, CPT, CIP, DAT, DAP, FOB, FAC, CFR, CIF.
Maleki Commercial, the biggest exporter of blue cornflower
Maleki Commercial is the largest direct exporter of blue cornflower in Iran and Asia. This company exports the best quality of this plant as per the buyer's requirement in the form of EXW, FCA, CPT, CIP, DAT, DAP, FOB, FAC, CFR, CIF.
Worldwide export of blue cornflower
Maleki Commercial is one of the global exporters of blue cornflower with the most effective ingredients, offering the best quality and price among all exporters. This holding is very successful in exporting this plant to different countries without any middleman.
You can rely on this company to provide the best quality products in safe and standardized packaging if you need this kind of high-quality export.
Blue cornflower price in Iran

Maleki Commercial exports blue cornflower at the best price and quality under the brand Elisso Sky to Europe, Asia, and the United States and has already attracted plenty of customers.