What is Celery?
Celery (Apium Graveolens L.Va.Dulc) belongs to Apiaceae, which is one of the most widely used plants, with many beneficial properties.
Botanical characteristics
Celery is a biennial, 30 to 100 cm tall, branched plant with a spindle-shaped, angular root that is deeply furrowed. It is often hollow and tubular, with short branches. Leaves have long petioles, 3 to 7 leaflets, which are 10 to 30 mm long and 7 to 35 mm wide, and petioles are spotted. They are diamond-delta-shaped, sometimes wedge-shaped. Leaves on the upper stem are sometimes opposite, almost without base, with a short sheath and membranous margin.
Umbels are numerous, small, often opposite leaves, with short inflorescences or almost without inflorescences. Petals are 0.5 mm long, while mericarps are 1.5 to 2 mm long. Celery seeds are spherical with some depressions on both sides.
Pharmaceutical part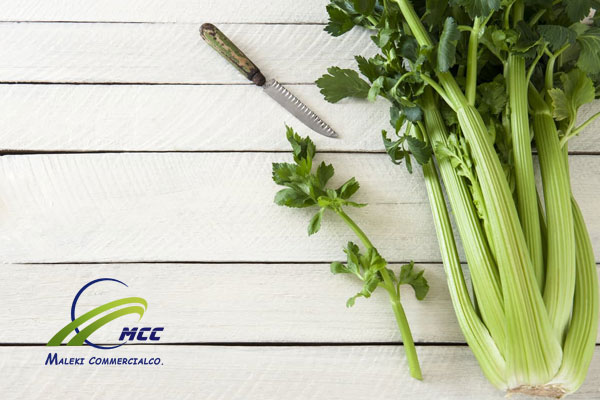 Chemical compounds
Celery contains vitamin A, vitamins B1, B2, B6, K, iron, sodium, potassium, fiber, calcium, folic acid, and magnesium.
This plant also contains alpha-pinene, beta-pinene, limonene, coumarin, terpinolene, butyl phthalate, spatollenol.
Ecology of cultivation
Celery grows well in relatively warm, temperate climates.
Humus soil is the most suitable soil for growing this plant.
pH of 6 to 7.5 is ideal for growing this plant.
It should be grown in moist soil, as this plant is sensitive to drought.
Sandy loamy soils are best for growing celery.
In relatively cool areas with average annual precipitation, celery produces a high yield.
It can tolerate frosts as low as -5 o
Seeds that are moistened before sowing, germinate better.
Cultivation method
First, the plants are grown from early March to mid-April in the seedling treasury, where they are covered with rotted leaf soil, irrigated, and sown.
Once the seeds have germinated and the celery plant has four leaves, it is removed and planted linearly in a second seedling treasury a few centimeters apart.
The plants are transplanted from the second seedling treasury to the main field in late May and early August when they become more vigorous.
These seedlings are cultivated in rows 30-40 cm apart and then will be irrigated.
The seedlings should be irrigated regularly. As regular watering promotes the growth of the plant, especially at this stage.
Pests and diseases
Celery blight (Septoria Apiicola)
Swallowtail Butterfly
Medicinal properties
Diuretic
Carminative
Exhilarant
Chloretic
Period trigger
Expectorant
Relaxing
Antiparasitic
Anti-diabetic
Against flatulence
Analgesic
Anti-tumour
Antifungal
Antioxidant
Anti-scurvy
Antimalarial
Anti-inflammatory
Antispasmodic
Anticonvulsant
Improves digestion
Refreshing agent for the mouth
Treatment of rheumatism
Treatment of gout
Treatment of kidney stones
Treatment of bronchitis and asthma
Treatment of renal colic
Treatment of liver and spleen diseases
Treatment of lung diseases
Lowers blood pressure
Disinfectant for urinary tract
Nerve tonic
Sexual enhancer
Method of Use
1- Capsules: one capsule of 450 and 505 mg daily (maximum intake for 15 days).
2- Liquid extract: in the same concentration (one kilo of crushed seeds of the plant and extraction of the essential oil with filter paper soaked in alcohol) together with other liquids (1 to 2 mm daily in three meals, maximum consumption for 15 days).
3- Herbal tea: Consumption of powdered leaves or seeds in the form of herbal tea (maximum 1 to 4 tablespoons of seed powder daily in three meals)
4- Injectable solution (HAB34), 1 mL per day and up to 6 times a month.
Contraindications
Pregnant women
Lactating women
Patients with lung problems
Patients with epilepsy
Patients with low blood pressure.
Precautions
Children under 12 years of age
Elderly people over 60 years of age with intestinal diseases
 Side effects
Inflammation of the skin
Photosensitivity of the skin
Elimination of intestinal villi (intestinal villi)
Note: Please consult your doctor before using this plant to treat the disease.
Celery supplier in Iran
According to the buyer's needs, Maleki Commercial exports excellent quality of celery as, EXW, FCA, CPT, CIP, DAT, DAP, FOB, FAC, CFR, CIF.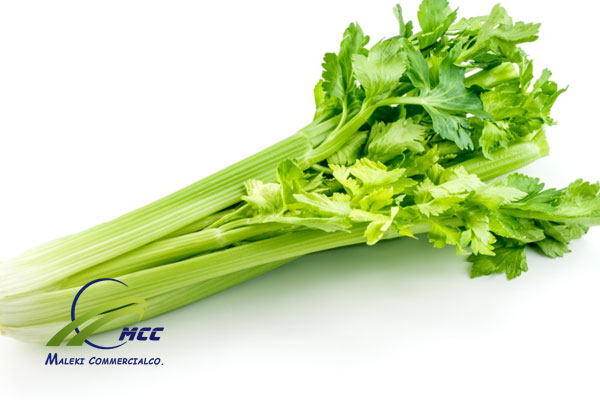 Maleki Commercial, the biggest exporter of Celery
Maleki Commercial is the largest direct exporter of celery in Iran and Asia. This company exports the best quality of this plant as per the buyer's requirement in the form of EXW, FCA, CPT, CIP, DAT, DAP, FOB, FAC, CFR, CIF.
Worldwide export of Celery
Maleki Commercial is one of the global exporters of celery with the most effective ingredients, offering the best quality and price among all exporters. This holding is very successful in exporting this plant to different countries without any middleman.
You can rely on this company to provide the best quality products in safe and standardized
packaging if you need this kind of high-quality export.
Celery price in Iran
Maleki Commercial exports celery at the best price and quality under the brand Elisso Sky to Europe, Asia, and the United States and has already attracted plenty of customers.