What is Common Sage?
Common Sage plant (Salvia officinalis L.) belongs to the Lamiaceae family. It is an export herbs with high supply and demand in the international trade market.
Physical characteristics
Common sage is a perennial plant that reaches a height of 60 cm. The stems are erect, with numerous branches and broadly felt hairs. The leaves of this plant are simple, petiolate, oblong, narrowed at the base, wrinkled, with short white hairs on the underside and greenish on the upper side. At the early stages of growth, the leaves are surrounded by a dense down. The flowering cycle includes 5 to 10 flowers. The calyx is 10 to 14 cm long, hairy, and tuberous-spotted. The flowers are pink, purple, blue, and white, which are within the false cycles.
Chemical compounds
The essential oils of this plant contain limonene, alpha-pinene, beta-cariophylene, myrcene, beta-pinene, monoterpenes, diterpenes, polyphenols, lycosides, flavonoids, and anthocyanins.
The monoterpenes of this plant include urosolic acid, miltiron, carnosic acid, carnosol, tannin, and the flavonoids of the plant contain hisspidolin and apigenin.
Pharmaceutical parts
Aerial organs

Geographical distribution
Global distribution
This plant is cultivated in Iran, Europe, the Americas, and the northern Mediterranean.
Distribution in Iran
This plant is grown in Mazandaran, Gilan, Isfahan, Tehran, Shiraz, and Kazerun.
Ecology of cultivation
The plant grows well in a warm, dry climate and is very heat resistant.
It lives for 5 to 7 years.
Winter temperatures below -15oC cause frost on this plant, which dries up in 5 to 6 days.
Common Sage can grow well in most soils and does not require any special soil to grow.
This plant grows best in sandy-clay soils.
The conditions that limit the growth of this plant are very soft sandy soils with low nutrients, lowlands, and cold, humid areas.
Cultivation Methods
Direct cultivation (sowing by seed)
Indirect cultivation (cultivation by seedlings)
Cultivation by vegetative propagation (plant division)
Direct Cultivation
Common sage can be cultivated directly by sowing seeds.
In this method, the seeds are sown in autumn (end of November) at a distance of 50 cm and a depth of 4 cm.
The required seed quantity for this cultivation method is 15 to 20 kg/ha.
Indirect cultivation by seedlings
In this method, seeds are first sown in a nursery and then transplanted to the main field.
The seeds are planted in April and May with 15-30 cm spacing between rows and 5 cm spacing in each row.
To cultivate this plant per hectare, you need an outdoor treasure with an area of 2500 to 3000 m2 and 1.5 to 2 kg of seeds with high vigor.
For the seed to grow in the nursery, it must be regularly watered and cleared of weeds.
For seeds to grow in the nursery, irrigation and weeding must be performed regularly.
The seedlings are transferred to the main field in autumn when they are 20-25 cm tall.
Seedlings on large areas are transplanted with a planter machine, and the appropriate spacing of seedlings between and on the row is 70 and 40-50 cm, respectively.
Cultivation by division of the plant
Plants that are 3 to 4 years old are removed, divided into 3 to 4 parts, and replanted in the field.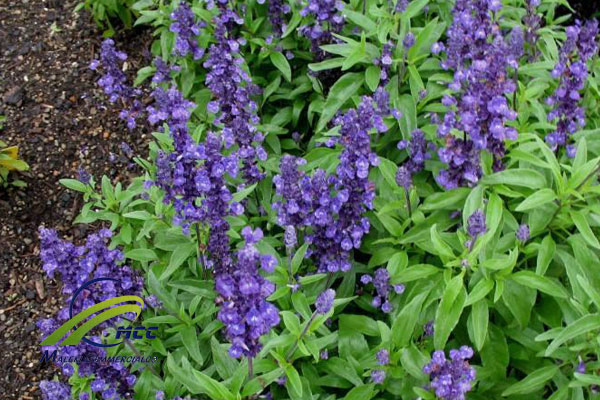 Harvest
One year after planting, common sage can be harvested. It can be harvested three times a year.
The first harvest is usually in June before the flowers bloom.
The second and third harvests are in early August and October, respectively.
It is best to harvest at midday.
Pharmacotherapeutic properties
Period trigger
Diuretic
Laxative
Sudorific
Laxative
Carminative
Antifungal
Anti-flatulence
Antibacterial
Anti-inflammatory
Antispasmodic
Anti-cancer
Anti-virus
Disinfectant
Treatment of intestinal inflammations
Treatment of gingivitis
Treatment of sore throat
Treatment of nasal infections
Stomach booster
Lowers blood pressure
Strengthens female hormones
Consumption method
How to prepare tea
Put a portion of the plants in 0.5 L of boiling water and drink it after straining.
Contraindications
Pregnant women
Breastfeeding women
People with coagulation disorders
Precautions
Children under 12 years of age
Elderly people over 60 years
Side effects of overdose
Note: Please consult your doctor before using Common Sage to treat the disease.
Maleki Commercial, the largest exporter of Common Sage
Maleki Commercial is the largest direct exporter of Common Sage in Iran and Asia. This company exports the best quality of this plant as per the buyer's requirement in the form of EXW, FCA, CPT, CIP, DAT, DAP, FOB, FAC, CFR, CIF.
Common Sage price
Maleki Commercial exports Common Sage at the best price and quality under the brand Elisso Sky to the United States, Europe, and Asia and has already won several customers.
Global export of Common Sage
Maleki commercial is one of the leading global exporters of Common Sage that have the most effective ingredients and best quality and price among other companies that export this plant. This holding has been very successful in exporting this plant to different countries without intermediaries.
You can rely on this company to provide the best quality products in safe and standardized packaging when you need this kind of high-quality export.
Common Sage price in Iran
Maleki Commercial exports the leaves and aerial parts of Common Sage leaf at the best price and quality under the brand Elisso Sky to the United States, Europe, and Asia and has already won several customers