What is Basil?
Basil (Ocimum Basilicum) belongs to the Lamiaceae family that is one of the aromatic plants in the trade of medicinal plants consumed all over the world.
Botanical features
It is an annual, herbaceous and glabrous plant, growing 20 to 100 cm high. The leaves are round, spotted, petiolate, with irregular margins, ovate or rectangular and short at the base and narrow at the tip. In addition, the leaves are long, pointed, complete or almost serrate and they are green, but in some species they are reddish-purple. The fruit-shell is inverted with hairy teeth, and the upper shells are round. The flowers are white.
Chemical compounds
Plants like these contain water-soluble flavonoids called Ornithine and Visnin, which protect the body cells from radiation and free radicals that cause cancer.
This plant contains an essential oil called Basilica, the amount of essential oil of this plant is 0.5 to 1.5 percent, depending on the region and climatic conditions at the place of cultivation.
The essential oil of this plant contains Eugenol, Methyl Eugenol, Chavicol, Almycin, Mercetin and Phenyl Cinnamate.
The essential oil of European Basil contains 50 to 55% methyl chavicol and 40 to 45% linalool.
Indian Basil essential oil contains 80 to 90% methylchavicol.
The essential oil of African Basil contains 30 to 45% camphor and 55 to 70% methylchavicol.
Pharmaceutical parts
Aerial parts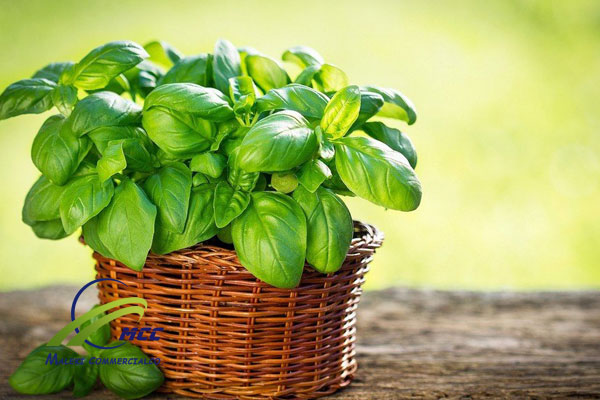 Geographical distribution
Global distribution
This plant is native to Asia and Africa and is now cultivated throughout the world.
Distribution in Iran
It is cultivated in most parts of Iran. The largest cultivation areas of this plant are in Khuzestan, Fars, Khuzestan and Tehran.
Cultivation ecology
Basil needs sufficient light and warm weather to grow. Temperatures between 18 and 20 oC are ideal for seed germination. From seed germination to harvest, this plant requires 500 to 550 mm of water and 1500 hours of light.
A medium textured or loamy sandy soil with high humus content is ideal for this plant.
Potassium is essential for the growth of Basil as it promotes the function of the vegetative body and the essential oil.
Fertilizing
Rotted animal manures are critical to the growth of this plant and the production of Basil high in essential oils.
To produce one ton of Basil, 18 kg of nitrogen, 15 kg of potassium oxide and 8 kg of phosphorus oxide are absorbed from the soil.
The soil should be amended with 30 to 40 kg. ha-1 of nitrogen, 55 to 70 kg. ha-1 of phosphorus oxide and 60 to 80 kg. ha-1 of potassium oxide before planting Basil.
When the field is prepared in spring, adding 30 to 40 kg. ha-1 of nitrogen and after harvest 40 to 50 kg. ha-1 of nitrogen along with adequate irrigation play a vital role in the growth of this crop.
Basil cultivation methods
 1- Direct cultivation
Direct sowing through seeds is best done in the first half of May.
During the main season, Basil is planted in rows. For direct sowing, the distance between rows is 40 to 50 cm.
The Basil seeds must be planted at a depth of 0.5 to 1 cm and 3 to 4 kg per hectare are required.
2- Indirect cultivation
Seeds can be sown indirectly in in the treasury under the plastic during the second half of March.
In this method, the seeds are planted 15 to 20 cm apart in the treasury under the plastic. The depth of the Basil seeds in the treasure chamber is between 0.5 and 1 centimeter.
The amount of seed required for planting by this method varies from 10 to 20 grams per m2, depending on the quality of the seed, and one kilogram of seed per hectare is needed to produce seedlings.
After regular irrigation and weeding, the seedlings are transferred to the main field after 5 to 6 weeks, when the plant has reached a height of 6 to 10 cm.
The seedlings are planted in rows 40 to 50 cm apart in the main field.
For each hectare of field 140 to 200 thousand seedlings are needed.
Harvesting
Depending on the climatic conditions of cultivation, this plant can be harvested two or three times a year.
The first harvest is at the beginning of July and the second at the end of September.
Proper spacing must be maintained for the first and second harvests. The proper distance for harvesting is 6 to 8 cm from the ground. If the plant is completely removed, it will not grow back.
The amount of essential oil per hectare is between 8 and 10 kg.
Gathering the Basil seeds
The crop should be harvested once when the seeds are fully mature to collect the seeds. Each hectare yields 600 to 800 kg of seeds.
The germination power of a Basil seed lasts for four to five years. Under suitable conditions, they germinate 14 to 21 days after sowing. Vegetative growth lasts up to 170 days.
Medicinal properties of green Basil
Laxative
Refrigerant
Carminative
Period triggers
Sleepy
Relaxing
Milk booster
Anti-fever
Pain killer
Anti-parasite
Anti-flatulence
Anti-poison
Pain killer
Antifungal
Antimicrobial
Antioxidant
Antispasmodic
Anti-Alzheimer
Anticancer
Anticoagulant
Disinfectants
Anti-inflammatory joint
Stomach strengthener
Cough treatment
Constipation treatment
Treatment of bronchitis
Treatment of indigestion
Treatment of dysentery
Treatment of abdominal pain
Medicinal properties of purple Basil
Sexual power improver
Abortion
Astringent
Expectorant
Anti-rheumatism
Anti-muscle cramps
Treatment of eczema
Treatment of pertussis
Treatment of bronchitis
Treatment of earache
Treatment of anorexia
Depression treatment
Anxiety treatment
Insomnia treatment
Treatment of hemorrhoids
Migraine treatment
Treatment of alopecia
Treatment of pertussis
Treatment of insect bites
Nervous improver
Memory improver
Hair strengthener
Instructions for consumption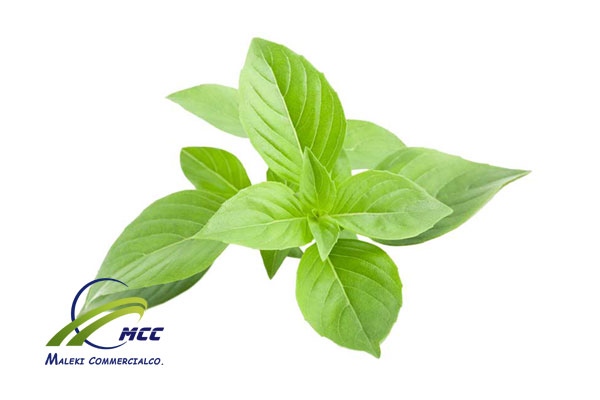 Method of Use
 1- Brewed:
add a few leaves of the plant to half a liter of boiling water and drink after brewing. The maximum daily dose is three glasses per day.
2- Consumption as a food vegetable:
as a vegetable or in salads, this plant can be consumed daily in an amount of 30 to 50 grams.
3- Oil
The oil of this plant may be used for external application. The maximum amount allowed is 5 to 10 drops daily.
Note: Consult your doctor before using this plant to treat any disease, please.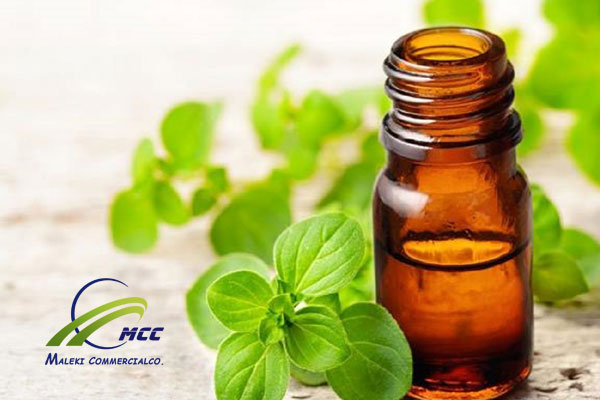 Cultivation and harvesting advice
Maleki Commercial has groups of professionals and trained experts who can assist farmers and investors in exporting medicinal plants at all stages of production from cultivation to sale.
If you want to grow medicinal plants, invest in starting a medicinal plant processing factory, package and extract medicinal plants, you can contact our expert consultants
Our team of specialists in medicinal plants and business plan consultants is one of the best in the field.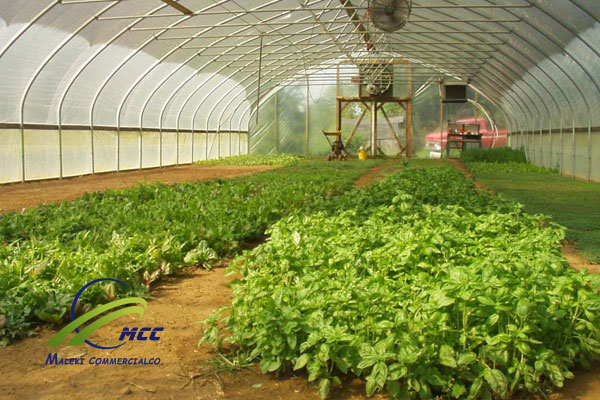 Basil plant and seed supplier in Iran
According to the buyer's needs, Maleki Commercial exports excellent quality of Basil plants and seed  as (EX), EXW, FCA, CPT, CIP, DAT, DAP, FOB, FAC, CFR, CIF.
Maleki Commercial, the biggest exporter of Basil plant and seed
Maleki Commercial is the largest direct exporter of Basil in Iran and Asia. This company exports the best quality of this plant as per the buyer's requirement in the form of EXW, FCA, CPT, CIP, DAT, DAP, FOB, FAC, CFR, CIF.
Our consultants can assist you with bulk purchases.
Worldwide export of Basil
Maleki Commercial is one of the global exporters of Basil with the most effective ingredients, offering the best quality and price among all exporters. This holding is very successful in exporting this plant to different countries without any middleman.
You can rely on this company to provide the best quality products in safe and standardized packaging if you need this kind of high-quality export.
Basil plant and seed's price in Iran
Maleki Commercial exports Basil at the best price and quality under the brand Elisso Sky to the Europe, Asia, and United States, and has already won several customers.