All information regarding Aloe vera
What is Aloe vera?
Aloe vera (Aloe vera L.) belongs to the Liliaceae family. It is an amazing plant with extraordinary properties, adapted to the climate of the southern regions of Iran. A large part of this product is exported annually to the Persian Gulf countries and Europe. Additionally, foreign income from its sale is considerable.
Botanical features
This plant can grow up to 60 cm in height which is a dense perennial shrub. The leaves are 50 cm long and 6 to 7 cm wide, annular and lanceolate with green or grayish-green color. There are 10 to 20 leaves per plant, which have thin sides with sharp or slightly curved conical thrones. The flowers are yellow or greenish-yellow, the first ones are perpendicular to the central axis of the inflorescence and then begin to hang at the base of the cluster. The fruit of the plant is a kind of capsule that is round, brown, oval, and 1 to 2 mm long.
Chemical compounds
Water
Essential oils
Resin materials
Oxidase
Amylase
Catalase
Folic acid
Calcium
Sodium
Magnesium
Zink
Copper
Salicylic acid
Magnesium lactate
Anthraquinone glycosides C
Glucomannan
Saponin
Vitamin A
Vitamin C
Vitamin E
Vitamin B1
Vitamin B2
Vitamin B6
Sugars (glucose, mannose, cellulose)
Anthraquinone glycosides C
Water-soluble polysaccharides
Pharmaceutical part
Leaves

Geographical distribution
Global distribution
This plant is native to Africa and is cultivated in India, the Indonesian islands, the Mediterranean coast, Mexico, the United States, and Iran.
Distribution in Iran
This plant is planted in fields in cities such as Khuzestan, Bushehr, Bandar Lengeh, Khark Island, Sistan, and Baluchestan, Fars. While it is commonly cultivated in greenhouses in Mazandaran, Gilan, Isfahan, and Rasht.
Ecology of cultivation
This plant is native to the hot and dry climate and tolerates hot temperatures (70-80 oC). Warm climates are ideal for growing this plant.
Aloe vera dies at 0 oC, so low temperatures are unsuitable for its cultivation.
If you grow the plant in a greenhouse, the temperature should not be below 10 oC and not above 50 oC.
Growing Aloe vera requires soil poor in humus, good drainage, acidic pH, and a hot and dry climate.
One hectare of this plant requires 25,000 offshoots.
Aloe vera cultivation methods
There are three ways to grow this plant:
Propagation using offshoots
Propagation using seeds
Propagation by the scion
Offshoots are the best method of propagating this plant for commercial cultivation.
If the offshoots around the roots of the plant are not separated from the parent one, they will continue to multiply and new offshoots will be generated.
To propagate the offshoots, they are separated from the mother plant in the spring and placed in sandy soil.
The plant can produce dozens of offshoots. Offshoots of 3 to 4 months, with 4 to 5 leaves and a height of 20 to 25 cm are suitable for cultivation.
To cultivate with offshoots, you must first prepare a plant with several offshoots around the roots and together with the leaves, then carefully separate them from the mother plant and cultivate them in a pot.
The offshoots must have been rooted for propagation. After 2 to 3 weeks, the roots of the plant will begin to grow and become large aloe versa.
Cultivation time
In the spring, it is best to plant by offshoots.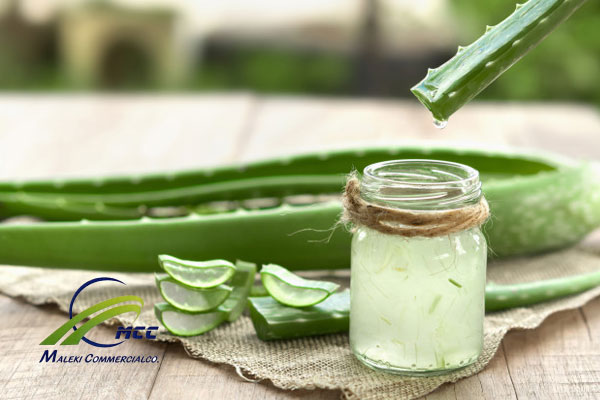 Harvest time
This plant can be harvested from the first year in autumn.
The leaves should be harvested when they weigh 600 to 700 grams.
Immediately after leaf harvesting, the gels should be extracted and taken to a processing plant.
Important growth factors after cultivation
The following five factors should be considered after cultivation:
1- Soil
The best soil for growing this plant is a mixture of sand and soil with good drainage.
2- Water
As for irrigation, this plant does not need much water, depending on the growing climate, irrigation should be done every 10 to 15 days.
To produce a plant of high quality and a gel with the best active ingredients, irrigation should be done regularly.
It is best to irrigate this plant when the soil is completely dry.
In winter, the plant sleeps and the irrigation interval is extended from two weeks to one month.
3- Temperature
It can withstand a lot of heat, making it suitable for hot and dry environments.
Since this plant dies at zero degrees, it cannot be grown in areas with long frosts.
4- Light
Plants should be exposed to direct light to increase the gels in their leaves.
Note: On very sunny days in the summer, especially in the south of Iran, the plants should not be in direct contact with the sun. As this will cause burns.
5- Fertilizing
Before planting, manure is the best fertilizer to add to the soil to strengthen it.
Manure can be poured between the furrows once a year if necessary.
Pests and diseases
 Black spot disease
 Root rot
 Mealybug (white bug)
Harvest of the Aloe vera gel
In the traditional preparation, in September or October, depending on the growing climate and conditions in the field or the greenhouse, the leaves are cut off after the rain and placed in the container standing up or compressed.
In a copper container, the resulting leachate is set on fire after 24 hours and evaporated for 4 hours.
The process can also be done without heating in the sun.
In industrial methods, the leachate in the leaves is extracted after the leaves have been pressed and crushed with a pressure device
Consumptions
Pharmacology
Food industry
Cosmetics industry
Medicinal properties of Aloe vera
Painkiller
Laxatives
Anti-inflammatory
Anti-Virus Virus
Wound healing
Burn recovery
Excretion of toxins from the body
Help to lose weight
Reduce skin aging
Treat tooth decay
Increased blood flow
Increase body energy
Strengthen the immune system
Enhance sexual performance
Reduced vascular contraction
prevent heart stroke
Stress treatment
Asthma treatment
Treatment of diabetes
Treatment of sinusitis
Treatment of syphilis
Hypertension treatment
Treatment of skin blemishes
Acne (pimples) treatment
Healing cracks in the skin
Kidney diseases treatment
kidney stone removal
Treatment of esophageal disease
Treatment of liver cramps
Liver obstruction treatment
Treatment of osteoporosis
Treatment of eye swelling
Treatment of AIDS
Treatment of gastric tumors
Treatment of nasal ulcers
Treatment of joint pain
Treatment of skin diseases
Treatment of anal and genital inflammation
Contraindications
Who should not consume this plant?
Children under 5 years of age
2- Elderly people over 60 years of age
3- Women who are breastfeeding
4- Pregnant women.
Side effects
Headache
Convulsions
Lethargy
Urinary
Shortness of breath
Hypertension
Liver damages
Side effects of an overdose
Poisoning
Liver damage
 Premature delivery
Abortion
Hemorrhoids
 Colon cancer
 Stimulation of uterine muscles
Note: Please before using this plant to treat a disease, consult your doctor.
Cultivation and harvesting advice
Maleki Commercial has groups of professionals and trained experts who can assist farmers and investors in exporting medicinal plants at all stages of production from cultivation to sale.
If you want to grow medicinal plants, invest in starting a medicinal plant processing factory, package and extract medicinal plants, you can contact our expert consultants
Our team of specialists in medicinal plants and business plan consultants is one of the best in the field.
Aloe Vera supplier in Iran
According to the buyer's needs, Maleki Commercial exports excellent quality Aloe vera plants and gel (EX), EXW, FCA, CPT, CIP, DAT, DAP, FOB, FAC, CFR, CIF.
Maleki Commercial, the biggest exporter of Aloe vera
Maleki Commercial is the largest direct exporter of Aloe vera in Iran and Asia. This company exports the best quality of this plant as per the buyer's requirement in the form of EXW, FCA, CPT, CIP, DAT, DAP, FOB, FAC, CFR, CIF.
Worldwide export of Aloe vera
Maleki Commercial is one of the global exporters of Aloe vera and its gel with the most effective ingredients, offering the best quality and price among all exporters. This company is very successful in exporting this plant to different countries without any middleman.
You can rely on this company to provide the best quality products in safe and standardized packaging if you need this kind of high-quality export.
Aloe vera price in Iran
Maleki Commercial exports Aloe vera at the best price and quality under the brand Elisso Sky to the United States, Europe, and Asia and has already won several customers.