Sesame seeds : Today, health is one of the main concerns of human beings, and people around the world spend a lot of money every year to maintain their health.
The World Health Organization defines health as:
A condition in which an individual's physical, mental, and social dimensions are perfect, which means that health is not merely the absence of disease.
Today, humans use natural substances to maintain health and prevent diseases.
Medicinal plants are also natural and suitable for the human body, with beneficial effects for maintaining health and treating diseases.
Sesame and its products are among the plants that have an extraordinary role in human health.
What is Sesame?
Sesame is an annual plant growing 50 to 150 cm tall, with opposite leaves which are petiolate and hairy. The calyx is 2-6 mm long, and the flowers are white, red, or purple.
The seeds, leaves, and roots are the medicinal part of this plant.
The scientific name of sesame is Sesamum Orientable, and it is called Sesame Seed in English.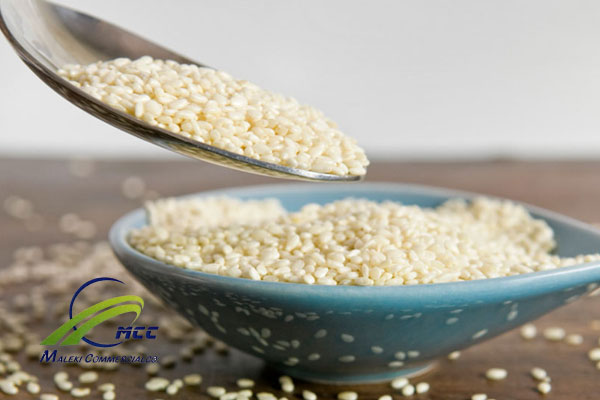 Therapeutic Information of Sesame Plant
This plant contains protein, lignans, unsaturated fatty acids, vitamins B1, B2, and E, iron, copper, zinc, calcium, phytic acid, sodium, and magnesium.
Medicinal-Therapeutic Properties of Ground Sesame
Lowering cholesterol
Cancer prevention
Laxative
Aphrodisiac
Natural antibacterial
Bone strength and health
Prevention of cardio-vascular diseases
Medicinal-Therapeutic Properties of Sesame
Prevention of constipation
Treatment of skin inflammations
Useful in rheumatism treatment
Relieving shortness of breath and asthma
Treatment of hemorrhoids
Treatment of vertigo
Treatment of anemia
Aphrodisiac
Increasing milk production in breastfeeding mothers
Treatment of inflammatory bowel disease
Medicinal-Therapeutic Properties of Sesame Oil
Helping to keep the skin and hair healthy
Reducing stress
Lowering blood pressure
Diabetes prevention
Healing of wounds
Removing skin wrinkles
Aiding weight loss
Sesame oil is an unsaturated oil, and its seeds have the highest amount of oil among vegetable oil seeds.
How to Make Sesame Oil:
Sesame seeds are washed and ground, after which water is added to separate the skin. The seeds are then dried and mixed with boiling water to form a paste. The resulting paste is pressed to separate the oil, which is called the first cold-pressed sesame oil. An oil is obtained from residues under heat and pressure, called second hot-pressed oil.
Supplier Sesame in Iran
Maleki Commercial exports the best quality sesame according to the needs of the customers in the form of EXW, FCA, CPT, CIP, DAT, DAP, FOB, FAC, CFR, and CIF.
Maleki Commercial, the Largest Exporter of Sesame Seed
Maleki Commercial is the largest direct exporter of sesame in Iran and Asia. Maleki Commercial exports the best quality Sesame according to the needs of the customers in the form of EXW, FCA, CPT, CIP, DAT, DAP, FOB, FAC, CFR, and CIF.