What is German chamomile?
German chamomile is a small plant belong to Astraceae family, very small and similar to Chrysanthemums or other chamomile types like Anthemis.
Physical characteristics of chamomile plant for export
German chamomile is an annual plant with divided green leaves and thorny end, yellow flowers locate in the central circle and white color in the lateral parts.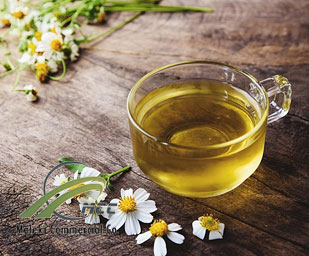 German chamomile chemical composition for export
The constituents include bizabolool, mucilage, coumarin, essential oil and flavonoids. Essential oil content extracted from this plant is between 0.25 to 0.4%.
The essential oil components include Apigenin, salicylic acid and camazolene which is used for preparing antihistaminic drugs.
Where does German chamomile grow?
This plant is native to eastern and southern Europe and is also cultivated in Iran, Australia and North and South America. It is present in Europe and Asia as self grow or cultivated.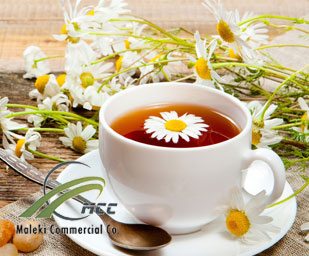 German chamomile and traditional medicine use
It is known as an appetizer.
Anti-allergy.
It is good for constipation and uterus hardness.
It acts as anti-inflammator and colic remedy.
Relives muscular pains.
Anti-blowing, diuretic and menstrual.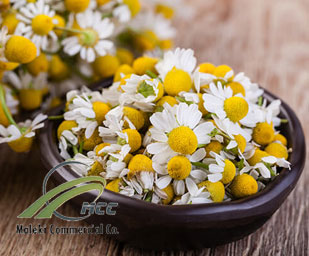 German chamomile and medical use
Anti-bacterial, anti-fungal and laxative.
German chamomile essential oil is used for skin irritation like eczema and skin diseases.
German chamomile solution is used for headache and insomnia.
Sexual enhancer.
Menstrual and brain strengthner.
Increases milk for breast feeding mothers.
A remedy for woman secretion.
Extract and oil is used for cosmetic products production.
Maleki commercial the biggest German chamomile exporter
Maleki commercial is the biggest direct exporter of German chamomile in Iran and over the world. Maleki commercial exports this important plant according to customer demand in forms of EXW, FCA, CPT, CIP, DAT, DAP, FOB, FAC, CFR, CIF.
German chamomile global export
Maleki commercial, the global exporter of German chamomile with highest active ingredients and essential oil, maximum quality and lowest price among all companies. This holding has gained a lot of success in this trade to many different countries. If you need premium quality German chamomile you can buy best standard qualities and packs with high confidence.
German chamomile price in Iran
Maleki commercial exports best price German chamomile through Elliso sky brand to the world and gained a lot of customers and high rate of satisfaction today.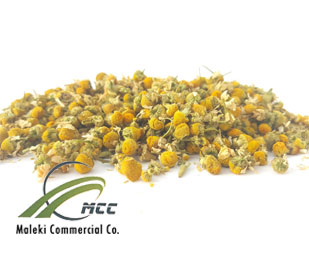 German chamomile supplier in Iran
Maleki commercial is ready to sell German chamomile to customers all over the world. We guaranty all our products through sea, air or post export.
Maleki commercial is warrantor to its customers and answers through differnt contact ways. Customers are the main base of this company. We send all orders of our products worldwide with no doubt and lateness.
German chamomile names
Scientific name: Matricaria Recutita
English name: Chamomile, Germany Chamomile
French name: Camomille
German name: kamille
Arabic name: Baboonj, Gharas
Persian name: Baboone alemani, Baboone saghir, Baboone rasmi, Baboongh, Baboone shirazi
Family: Asteraceae