What is Safflower?
Safflower plant (Carthamus Tinctorius) is a plant of the family Asteraceae, which is also known as American saffron.
Scientific name: Carthamus Tinctorius
English Name: Safflower
Arabic Name: Ghortam
Safflower characteristics
Safflower is an annual plant with a height up to 1 m, leaf length of 30-90 mm and leaf width of 10-20 mm, green serrated leaves, glabrous, without petioles, veins on the lower surface, and yellow and orange flowers.
Chemical compounds
The flowers of this plant contain carthamone, carthamin, flavonoids and the seeds contain linoleic and lineoleic acid.
The safflower flowers have two pigments:
A yellow substance that dissolves in water.
Carthamin, which is insoluble in water.
The safflower flowers contain a yellow substance called safflower yellow and isocarthamin, which contains the fats, including oleic acid, linoleic acid, palmitic acid, stearic acid and two pigments called carthamic acid and carthamin.
Pharmaceutical part
Dried flowers and seeds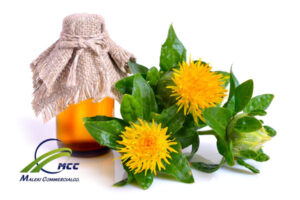 Geographical distribution
Global distribution
This plant is native to Iran and India and is cultivated in Southeast Asia, Eastern Mediterranean, and California.
Distribution in Iran
It is cultivated in Azerbaijan, Lorestan, Gorgan, Yazd, Isfahan, Khorasan, Kerman, Semnan, Tehran, and Qazvin.
Medicinal-therapeutic properties of safflower
Food coloring
Pain killer
Anti-infertility
Anti-inflammatory
Antifungal and worm killer
Anti-inflation and tumor suppressor
Prevent platelet stickiness
Accelerate blood flow
Laxative and cathartic
Regulate menstruation and strengthen uterus
Strengthen nerves and sedative
Treat jaundice
Eye wash
Consumption
How to use safflower
Pour some of the flowers of this plant in half a liter of boiling water and drink it after brewing.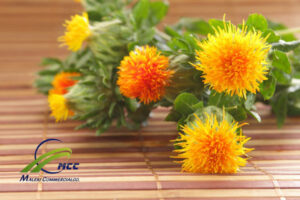 Supplier of safflower in Iran
For the commercial production of safflower in Maleki Commercial Company, the best seed varieties of Safflower plant with very high potency are cultivated under the supervision of professional experts in this plant.
Maleki Commercial Company is the largest supplier of safflower at competitive prices in Iran and the world.
Exporter of safflower in Iran
Maleki Commercial Company exports the best quality of safflower according to the customer needs in the form of EXW, FCA, CPT, CIP, DAT, DAP, FOB, FAC, CFR, CIF.
Global export of safflower
Maleki Commercial Company is the global exporter of this plant with the highest active ingredients and the best quality and price among all companies exporting this plant. This holding company has achieved great success in exporting this plant to various countries without intermediaries.
If you need this high-quality export plant, you can confidently get the best quality from Maleki Commercial Company with safe and standard packaging.
Safflower price in Iran
Maleki Commercial Company exports pure safflower at the best price under the Elisso Sky brand to Europe, Asia, and the United States, and has gained many customers' satisfaction.